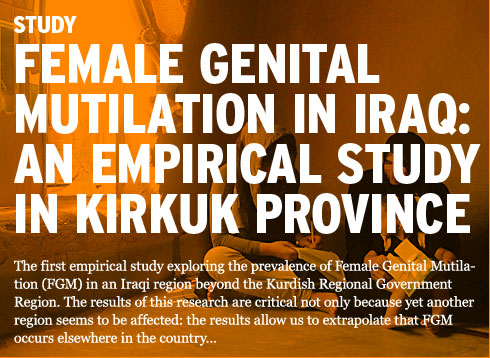 The report is the result of more than two years of work. Fighting FGM needs persistence, conviction, and it needs money. Please consider to make a donation to our campaign.

Download Report
Contact Germany
Arvid Vormann: ++49 (0) 163 6128777
Anne Mollenhauer: ++49 (0) 179 7378426

Contact Northern Iraq
Office Suleymaniah: ++964 7701588173
About WADI
Wadi – Association for Crisis Assistance and Development Cooperation – is a German NGO, that supports programmes of development, gender-mainstreaming and conflict resolution in Northern Iraq, Israel, Jordan and Syria since 1992. WADI's work is dedicated to support Freedom and Human Rights in the Middle East. Gender-mainstreaming and educational programmes are main fields of activities. Besides, WADI works for the rehabilitation of victims of chemical weapons in Iraq. Since 2005, WADI is part of the Stop-FGM-in-Kurdistan campaign, an initiative of local and international NGO for a legal ban on Female Genital Mutilation.
WADI e.V.
Herborner Str. 62
60439 Frankfurt am Main
Germany
info@wadinet.de
www.wadinet.de