WADI BLOG | 22.07.2014
.

original text
Islamic caliphate labels female genital mutilation obligatory
von Arvid Vormann
Recently the Islamic state issued a fatwa which called female genital mutilation a religious duty for every woman and girl living within the caliphate's boundaries.
It is telling that this is one of their first worries when establishing their terror reign… The existence of this "state" is a shame for whole mankind, and every day is a day too much.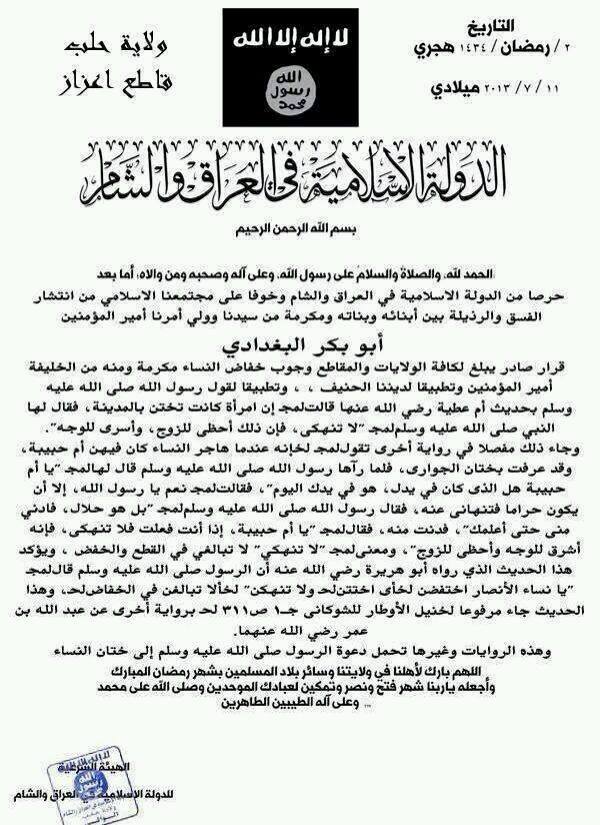 This is a translation of the Fatwa:
For protecting our Islamic nation in Iraq and Syria, our land, and our people, we need to look after our women and their behavior while preventing them from the dreadful modern life they are surrounded with.
Abu Baker Al-Baghdady:
A rule to all of the Islamic nations, regions, and districts is to protect women as our Khalifa says and prophet says while the mother Aatyia was circumcising a woman, the prophet said, "Don't get disappointed, that is good for your husband, and your face". In another story, the prophet saw the mother Hajer, who had been known as odalisque's mutilated woman, and asked her whether she still practice her job or not, the mother Hajer answered with yes. Then she asked the prophet whether it is Haram or not and he answered her with being Halal and he can teach her how to do it. The prophet says, "it is brighter for the face, and luckier for the husband". Meanwhile, the prophet says, "if you mutilate, do not exaggerate".
Abu Harera gives another statement that the prophet says, "All Muslim women, accept circumcision but do not exaggerate on it". Therefore, this is a call for all women to get mutilated.