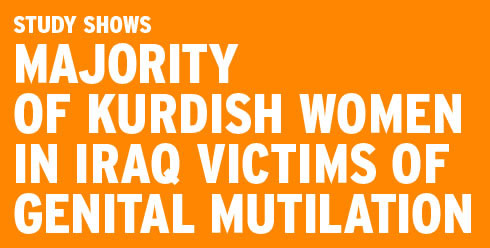 Study shows: Majority of Kurdish Women in Iraq Victims of Genital Mutilation
Arbil (Iraq) | Berlin: On the occasion of the International Action Day against Female Genital Mutilation, a representative empirical study on »Female Genital Mutilation in Iraqi-Kurdistan« is going to be presented on February 6. A 40 page report summarizes the results of a one-and-a-half year empirical study conducted by the German relief organization WADI. The numbers presented in the report are alarming: A vast majority of women in Iraqi-Kurdistan have undergone FGM with some regions reaching a top ratio of more than 80 percent.
The study provides comprehensive evidence on the underlying dynamics of FGM and helps understand, why mothers who themselves experienced the horror of mutilation allow FGM to be practiced on their daughters. A vast majority of women who adhere to the practice believe it to be a religious obligation in Islam. Others refer to tradition and state that »it has always been like that«. The study also shows a clear correlation between the level of education and the attitude towards FGM. Still, the FGM rate amongst university graduates is around 30 percent. But it becomes clear that with an increasing social status, women are more likely to question harmful traditions and alleged religious obligations.
Thus, the study highlights the depressing living conditions of women and girls in Kurdistan and Iraq. Although significant progress has been made especially in the Kurdish region, women still experience extensive discriminations in everyday life and frequently become victims of violence and oppression. This downbeating appraisal only corresponds to a regional trend: Gender discrimination is an obstacle for development in many Middle Eastern societies.
In this context, the report which is the first and sole collection of empirical data on the subject so far also points to the errors of international organizations. It asks specifically why UNICEF as the UN body responsible still ignores the Kurdistan region when it comes to FGM. UNICEF and the World Health Organization (WHO) were active in northern Iraq for more than a decade without even asking about FGM.
The report is cautious with recommendations, but a clear political task results from the findings: FGM is not marginal, but affects the life of the majority of Kurdistan's women and girls. It is up to the Kurdistan Regional Government (KRG) to take effective and immediate steps to protect them. Any sustainable policy against FGM must focus on higher social standards, better education and effective rights for women.

Contact Germany
Arvid Vormann: ++49 (0) 163 6128777
Anne Mollenhauer: ++49 (0) 179 7378426

Contact Northern Iraq
Office Suleymaniah: ++964 7701588173
About WADI
Wadi – Association for Crisis Assistance and Development Cooperation – is a German NGO, that supports programmes of development, gender-mainstreaming and conflict resolution in Northern Iraq, Israel, Jordan and Syria since 1992. WADI's work is dedicated to support Freedom and Human Rights in the Middle East. Gender-mainstreaming and educational programmes are main fields of activities. Besides, WADI works for the rehabilitation of victims of chemical weapons in Iraq. Since 2005, WADI is part of the Stop-FGM-in-Kurdistan campaign, an initiative of local and international NGO for a legal ban on Female Genital Mutilation.
WADI e.V.
Herborner Str. 62
60439 Frankfurt am Main
Germany
info@wadinet.de
www.wadinet.de